Venture Planning Partners has a solid background in NGO Capacity Building and Community Economic Development.
We have worked with numerous NGOs in the Halifax area and internationally in Bangladesh. In addition to all the principles and tools of strategic management from our business services that we use to develop the strategic management plans for NGOs, we also are intimately familiar with the Canadian Government's Treasury Board Guidelines for Results Based Management. We structure our NGO strategic plans to correspond to your funding organizations or your funding government department's strategic outcomes in the format they understand and need. To see the PowerPoint introduction to Results Based Management, which was used for the Halifax Inner City Initiative's Strategic Plan formulation, just click on the email adress below and we will email the PowerPoint introduction back to you.
Or, if you would like see this short introduction now, just click on the link below and it will open in your browser. Once your browser opens the PowerPoint [a dialogue box will prompt you] simply use the navigation bar on the right side of your screen to click through the slides. At the end of the PowerPoint presentation click on the "Back" button at the top of your browser screen to return to this web page.
Derek Mitchell, our Managing Partner and senior lead consultant, has a strong civil society / NGO public sector background and extensive experience in working in diverse multi-stakeholder environments to develop multi-sector collaborative strategies in community economic development, through bringing together business, government and community NGOs. He has worked closely with the Tamarack Institute for Community Engagement and the Vibrant Communities Network, which is a network of 15 urban communities across Canada, working in the social development sector for urban renewal and community economic development.
The underlying strategic approach or philosophy of the Vibrant Communities Group is a theory of social intervention called Comprehensive Communities Initiatives or CCIs. In essence CCIs approach complex and interwoven social issues in a comprehensive manner BECAUSE complex social issues or problems require comprehensive interdependently linked solutions.
Sounds basic and simple right? Yet virtually all government departments and social NGOs across the world in their day to day practice and their focus on service delivery, lose sight of this "Big Picture" from a broad strategic overview. If you would like to learn more about CCIs just email us and we'll email you back a segment of a PowerPoint presentation Derek Mitchell made to over a dozen Government Departments here in Canada, on a CCI project Venture Planning Partners is working with in Halifax, called the Halifax Inner City Initiative.
The national Canadian coordinating organization for the Vibrant Communities Group is the Tamarack Institute. Just click on the Tamarack link to their web site where you can find lots of REALLY GREAT resources for ideas and templates. In addition, on the same Tamarack / Vibrant Communities web site, here is the web page for the the Halifax Inner City Initiative. Once you are on the web page, look for the following section on the right hand side of the page: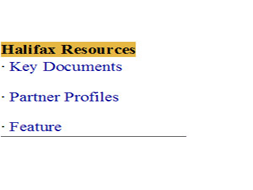 If you click on the link "Key Documents" you can then access an Adobe PDF document which summarizes the Halifax Inner City Initiative's Strategic Plan.
There are also a whole host of resources on the Caledon Institute for Social Policy web site, another of our national partners. Just click on the above link to go to their web site.
One of the new models or approaches to community social and economic development is called the Theory of Change. The Theory of Change is a structured planning process which articulates a problem or opportunity definition and then defines the specific interventions or pathways to change to correct the problem or capitalize on the opportunity.
Other key areas of support Venture Planning Partners offers NGOs are:
If you would like to learn more about any of the resources on this page just email us at: